Our Mission Goals
We want the best for all of the puppies and dogs that are in our program. We are dedicated to raising lovable and healthy Pomskies. Our family has always depended on the comfort and love of our dogs, and we strive to help other families enjoy the same comfort and care that dogs have always given our family. We discovered our love of all things Pomsky, and it has lead us to where we are now! All of the Pomskies in our program are spoiled couch lovers, and we aspire for their puppies to have the same.
About us
We are a father daughter duo who have a passion for dogs! We are located in Centerville, IA, which is in southern Iowa. Our family has raised dogs for generations, and we have focused our love on the Pomsky breed! We want each and every new owner to have the same love of the Pomsky breed that we do. We like to say that having a Pomsky is contagious, once you have one you always seem to end up bringing another home!
Our Family
Our dogs are family and are raised inside our home with us. We are not "backyard breeders" or a puppy mill. Our puppies are raised in a clean, loving, environment. They are loved and handled from birth making them ready to be well-adjusted members of their human families. Please reach out to us and we can do a video call walkthrough of our pack and facilities!
Our Values
Our business is more than just a job or a hobby. Our dogs all live in the comfort of our own home, and all puppies are as socialized as we can make them. Our family has raised dogs for generations. It is a family tradition to make sure that all of our dogs are spoiled, happy, healthy, and well-tempered. We believe that a well-socialized puppy goes a long way in having amazingly well-behaved dogs in the long run. We try our hardest to ensure that all of our dogs are healthy and clear of genetic conditions. We only have one or two litters at a time, and they are spaced out for the health of the moms in our program.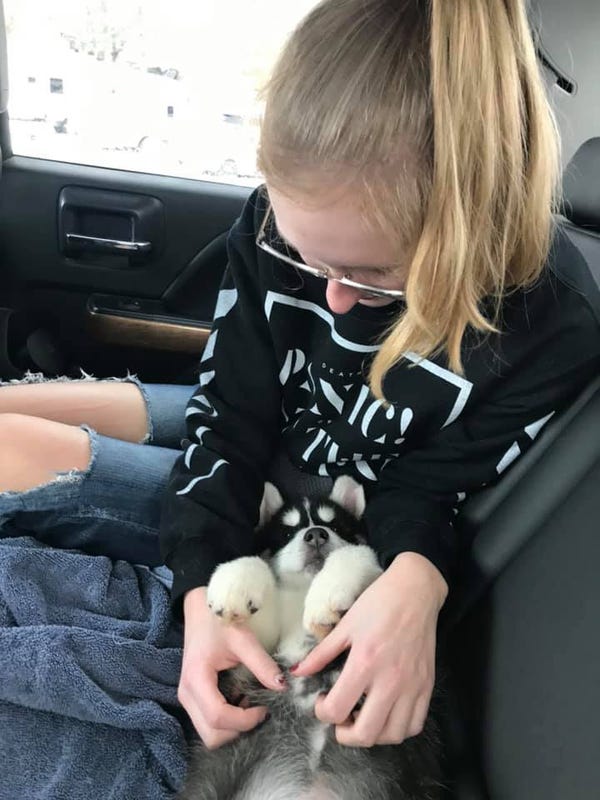 Information About Our Program
Where do our dogs and puppies stay?
-All of our dogs live in the house with us. They are as spoiled as can be, and are loving life. Our puppies split their time in the whelping room and in the house with us. They stay in our whelping area until they are old enough to be around the other dogs for short periods of time. Once they are old enough, they are allowed to interact with the other dogs we have and socialize. We have special parts of our house sectioned off for puppies only! They are also able to be outside in our fenced-in yard when they are old enough to play outside with the other dogs after vaccinations and vet checks.
What do you feed your dogs?
-Our dogs are fed a high protein diet. Our dogs are on a mixed diet between kibble and supplemental meats. We buy a variety of high quality dog food depending on if the dogs like it, and the content in the food.
Do you DNA test your dogs?
-Yes! We use Embark DNA testing to make sure that all of the dogs in our program are healthy before breeding. Our dogs are clear for all of the genetic issues that Embark tests for. You can look at our dog's full Embark results on each dog's individual pages, where there is a link that takes you to the full results. We are also in the process of getting our dogs OFA tested. We want everyone who is looking to bring home one of our puppies to have full access to parental health history, should they want to check it out.
If owners are willing, we do ask them to write testimonials for us! We know that getting a new family member can be stressful, and we hope that our testimonials will help put new owners at ease.
From the moment I messaged LJ Kennels looking for a puppy to actually going and getting him, it was an excellent experience. Dasher (once known as Bruce) is now 5 months old. He is so smart and such a fast learner. We used the "bells" on the door to potty train him and he caught on within just a few days. He loves his crate and sits on command. He does so well at all his vet visits and loves meeting new people. I am so thankful to have come across LJ Kennels! If I decide to get Dasher a friend, I will definitely be contacting LJ Kennels again. Highly recommend them! -Danaica Brown
LJ Kennels was fantastic to work with and we couldn't be happier with our boy! From the first message all the way until we picked up our pup was smooth and they kept in contact with us and answered every question we had. We were able to see the parents DNA testing to ensure that we were getting a healthy puppy and he has turned out to be the sweetest, most gentle, and well mannered dog. LJ Kennels will be our go-to if we ever decide to add another to our little family!
-Tiffany Jiles
Our experience with LJ Kennels could not have gone better. Lexy and her dad obviously care immensely about their dogs and puppies. They communicated with me throughout the whole process and were extremely helpful. They were willing to ship my baby to me as long as the travel was safe and not stressful for him. Our boy Nash is beautiful, playful, loving and was super easy to train. He gets along great with the family including his canine big sister(pictured). He also loves meeting new people and dogs. I would not hesitate to buy my next Pomsky from LJ Kennels and would recommend them to anyone looking to add some love to their life. -Ursula Camp